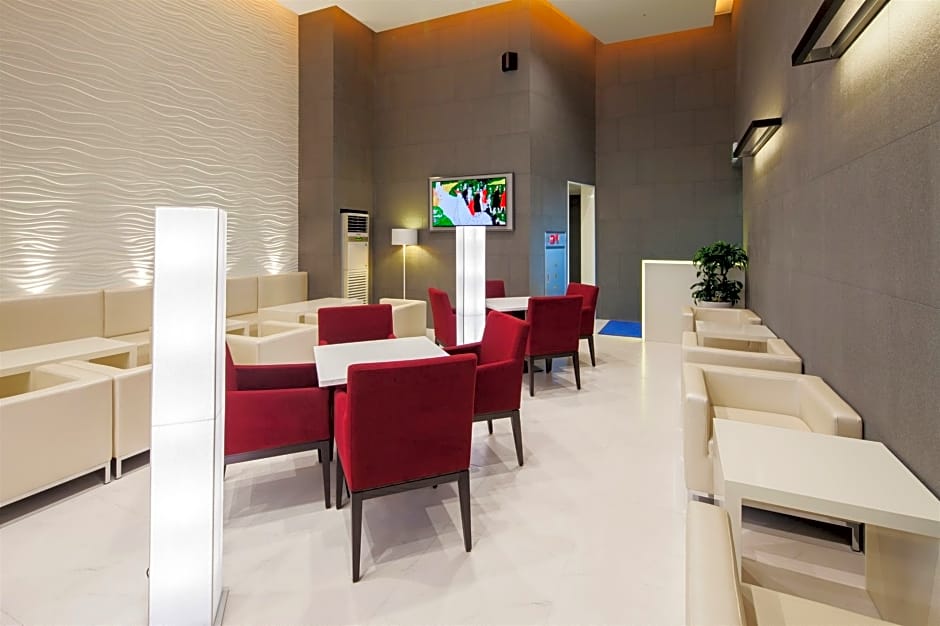 Visualizzare tutte le foto in galleria
Prenota ora online
1 Camera Con 2 Adulti
Modifica la ricerca
Invia ad un tuo amico!
Trovi che il nostro sito utile? Condividi con i tuoi amici!
Si prega di compilare il modulo qui sotto e ti sarà inviata immediatamente.
Si prega di notare che noi non raccogliamo indirizzi e-mail e non trasmetteremo
né per voi né per il vostro amico qualsiasi e-mail non richieste.
The Uljiro CO-OP Residence, situated in the Dongdaemun neighborhood of Seoul, is ideally located only a short distance from the world famous Dongdaemun Market and the renowned Dongdaemun Gate. Only a five-minute stroll to the nearest metro station, this hotel is well positioned close for discovering South Korea's finest shopping, dining, and nightlife.

Accommodation
This charming hotel highlights a sleek, contemporary aesthetic, which features fresh linens, light colored wood, and a neutral color palette. Rooms are tastefully furnished with crisp linens, a beautifully grained hardwood floor, and elegantly papered beige walls. Guests can enjoy utilizing the kitchenette, including refrigerator and microwave - fitted in all of the Uljiro CO-OP Residence's one-hundred and twenty rooms. Gratis wired, high speed Internet, a multi-line phone, and an LCD television with satellite channels enable guests to stay connected to the outside world. In addition, this hotel offers individualized climate control, complimentary bottles of water, and regular housekeeping services. Bathrooms come with hair dryers, shaving mirrors, and a cozy pair of slippers.

Hotel Facilities
The dual-towered Uljiro CO-OP Residence boasts a wide range of generous amenities, designed to enhance guests' stay. A twenty-four hour front desk and concierge desk - operated by a friendly, multilingual staff - afford visitors the opportunity to receive assistance scheduling tours, procuring restaurant reservations, and recommendations for Seoul's top attractions. An onsite restaurant called Savory serves American style breakfast cuisine, drinks, and coffee. Guests may avail themselves of the twenty-four hour fully equipped fitness facility. A computer room with wired, high speed Internet access and complimentary newspapers in the lobby enables guests with business interests to fulfill their work obligations. Dry cleaning and laundry service may be arranged at the onsite facility. Visitors may store important valuables at the fully manned, front desk safety deposit box. Express check in and check out are conveniently available to all guests.

Parking/Transportation
This hotel offers free, onsite self-parking to all guests. The Uljiro CO-OP Residence offers a secure parking garage staffed by a security guard. A subway station is located only a brief five-minute walk away, and the front desk staff can arrange taxi services for all visitors.
Come prenotare
Effettuare la prenotazione è facile e sicuro. Inserite le date del vostro soggiorno e inoltrate il formulario.

Dopo che il tipo di camera e le tariffe saranno di nuovo visualizzati potrai scegliere la tariffa prima leggendo le informazioni sulle camere al centro dello schermo, poi cliccando su "Prenota Ora" al lato destro dello stesso. Dopo aver selezionato il tipo di camera che desideri, arriverai al modulo di "Completa la prenotazione". Poi avrai bisogno di rivedere le "Dettagli del soggiorno" e di riempire i campi nella sezione "Dettagli degli ospiti". Assicurati che il tuo nome ed indirizzo email siano scritti correttamente. Una volta fornite tutte le informazioni richieste, clicca sul pulsante "Completa prenotazione".

Per garantirti la sicurezza, il sito utilizza un server commerciale sicuro, che cripta il numero della tua carta di credito e lo decodifica in una forma non utilizzabile.
Visualizzare tutte le foto in galleria
Informazioni sulla zona
Aeroporti

Seoul, South Korea (GMP-Gimpo Intl.) - 11.12 mi
Suwon, South Korea (SWU-Suwon Airbase) - 23.03 mi
Seoul, South Korea (ICN-Incheon Intl.) - 31.50 mi
Wonju, South Korea (WJU) - 53.36 mi

Musei